To allow your colleagues to gain access to your team on Staff Leave, you have two options. Add any authorized email address to the Employee Access section, or manually invite / add each user via the People section. Every time you add a user, their email is automatically assigned to your Staff Leave account, meaning that when they officially sign up, they gain instant access to your team.
If you don't want to invite or add each user manually, you can either import a list of names using an Excel template, or authorize each email or email domain via the Employee Access section found under the More tab. When you authorize an email domain, anyone with an email address at that domain can automatically gain access to your team via the app. This is useful if your employees have email addresses at your company's domain or website.
To Add and Remove Authorized Emails and Email Domains
Navigate to the More tab.

Scroll to Company & App Settings > Employee Access and tap on the menu option

Tap on the (+) icon to add a new domain or unique email address

Tap on (Save) to save this address

To remove / revoke permissions for an email or domain, simply swipe left and tap on (Delete)

Step Three: Tap on (+) icon to add a new entry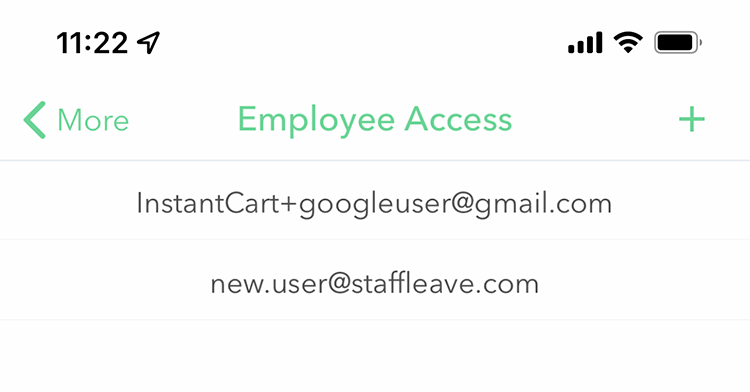 Step Four: Once you've specified your new authorized domain or email address. Tap on (Save) to add it to your inventory.