You can edit a number of settings associated with your company profile, such as your name, company email and subdomain.
To navigate to company setup
Login to the Nomify main website at via www.nomify.me
Click on "My Account" towards the to right of your screen
Scroll down and find your company, clicking on the green "manage company" button
You'll see a number of settings you can now edit
Uploading a Company Logo
Click on the + icon on the logo placeholder.
Locate a the logo file you wish to use on Nomify - we recommend one that fits in a square, as Nomify will auto crop it to fit in a circle.
When you are happy with your choice, click SAVE to make the required changes
Editing Company details
Specify your new company details in the text fields provided
Click SAVE to make your changes
Changing your Company Subdomain
Scroll down to the You Subdomain section
Type in the new name you'd like to use
IMPORTANT: One you change your subdomain, please be sure to update any links you have given to your employees with the new company subdomain.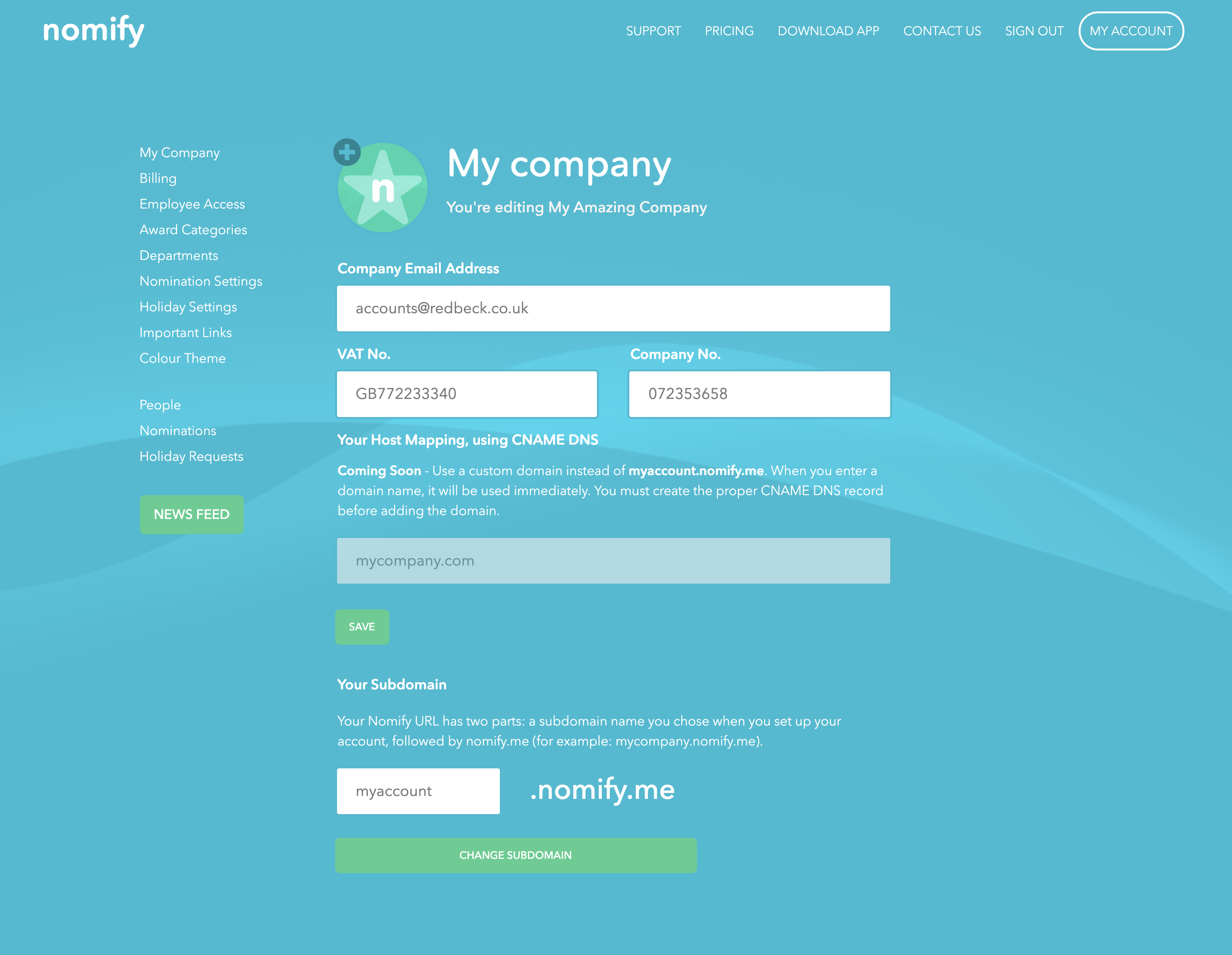 Nomify Setup Checklist
When you first create an account, we've put together some useful things to check to make sure you're all setup:-
Initial Details - Specify your company email, company name, and checked you're happy with your subdomain. VAT No & Company No. are optional - but please complete if you're based in the EU but outside the UK.
Employee Access - Check you have registered all the email domains for your company, and or email addresses if you have users who don't use a company email. We can help you get setup here if you have a lot of addresses to add.
Departments - Make sure you've set and checked your departments. We've added a couple of basic ones for you.
Color Theme (Optional) - You have selected a theme for your company. Green is our default theme.
Holiday Settings (Optional) - Setup your holiday settings, and turned on/off holidays.
Nomination Settings (Optional) - Set your nomination & award ceremony. This can be done at a later date, however it is set to on by default, so will need turning off.
Award Categories (Optional) - Specified your award categories for your nomination award scheme.